In a corner of western Turkey where the Aegean Sea embraces a coastline touched by many great civilizations of antiquity, a technological revolution is quietly underway led by the Vestel Group.
The ancient coastal city of Manisa is the production center of the Vestel Venus, the first smartphone produced in Turkey.
"With its sleek design and cutting-edge technology that stands out from global brands, our smartphone, Venus, demonstrates Vestel's commitment to developing and manufacturing high-tech products," Vestel Group CEO Turan Erdogan said. at a September 2014 unveiling in Berlin.
Turkish engineers at the sprawling Vestel City complex within Manisa have developed the Android-based Venus and three million are expected to be produced each year by the end of 2017, with one million exported, mostly to Europe.
Vestel is already one of Europe's leading television manufacturers, with a production capacity of 15 million televisions per year and occupying 20% ​​of the European market. Mr Erdogan said smartphones were the logical next step for his ambitious group.
"The total television market in the world is around 250 million devices, while the market for mobile phones and smartphones has 1.2 billion units. Even in Turkey, the total phone market is about 14 million pieces while the TV market is only 3.5 million. This means that we are entering a new market 5 times larger than the TV market," he explained.
"In Europe, nobody makes smartphones. I think Europe is missing out on this digital revolution. America, Korea, Japan, Taiwan and China are hubs for smartphone manufacturing, but we haven't seen this happening in Europe so far," Erdogan added.
The forward-thinking CEO oversaw the creation of new departments and the hiring of new engineers and employees to help create Turkey's smartphone revolution.
"For a new company, it is difficult to enter this market. However, for Vestel, a company with 20 years of experience in the manufacturing industry, it's easy.
When it launched in late Q3 2014, the 5.5-inch Venus' standout features were its 13-megapixel camera, 16GB hard drive, and 4G LTE and NFC technologies. A less expensive model, the Venus 5.0″, was touted as desirable for its long battery life.
Mr Erdogan pointed out that the Venus is priced at half that of many of its competitors, with the 5.5in initially selling in Turkey for around $410 and the 5.0in at $295.
Aware that the smartphone market does not stand still, Vestel intends to introduce a new Venus model every six months. In the third quarter of 2015, the new model will include a 13.8 megapixel camera system and a thickness of less than 7 mm.
"We are going to present a range ranging from very affordable but very advanced phones to prestigious and very elegant products," Erdogan said.
Although it is a market leader in electronics and white goods in Europe, the Vestel name is little known outside of its native Turkey and neighboring countries as it produces most of its devices for other brands and distribution chains.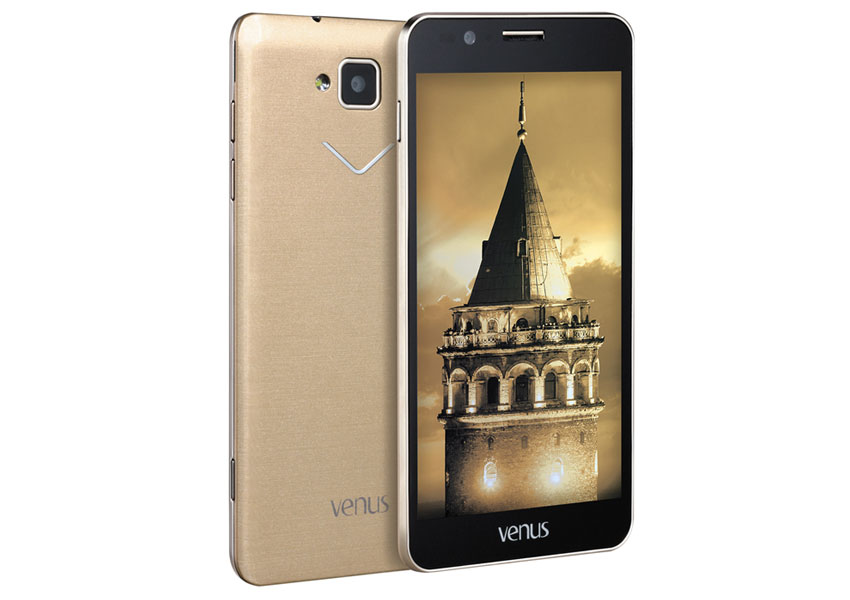 |
|
Pointing out that Samsung and Sony also started out by making TVs and home appliances, Erdogan sees vast potential in merging Vestel's expertise and product lines to create a range of "smart appliances".
"At Vestel, we have the ability to manufacture electronics and integrate them into home appliances to make them smart and connect them to the internet. It was not our choice; we cannot afford not to manufacture smartphones, smart TVs, smart fridges and smart air conditioners," he said.
Mr Erdogan would like to enter more markets in his product line with Vestel's own brand, but he is eyeing a technological breakthrough from his well-funded R&D team before doing so.
"Entering markets with our own brand is an expensive procedure, but if we can come up with some kind of technological breakthrough, as Apple has done, it is much more feasible. The touch screen, for example, was available ten years before Apple used it, but they were the first to think that touch control could be used in a mobile phone. These kinds of things cause a brand name to become very popular in a very short time.
Vestel is one of only three Turkish companies to make the world's list of 1,000 companies that spend the most on R&D and the group values ​​ideas above all else.
"We have to look for the next big ideas because we are in the midst of a digital revolution. It is not a question of doing it, but of thinking about it. If someone has a genius idea, we can make it a reality. Ideas are the most valuable thing these days," Erdogan said.