Inside story
The instrument cluster comes to life as soon as you enter, displaying all the usual and critical driver information. Built-in light sensors control screen brightness that adapts to outdoor lighting conditions. Positioned on a satin chrome center stack of the simple dash is a single jewel-like rotary knob below a large, portrait-oriented nine-inch infotainment touchscreen.
Although new cars with minimalist cockpits are becoming more and more common, not only on Volvos but in all areas, some of us still prefer to adjust the HVAC using old-fashioned dials while still keeping your eyes on the road. However, you can use voice control to adjust fan speed and some other features.
The touchscreen is flanked by a pair of chrome vertical vents. These have a silver center section – to direct airflow – that appears to "float" in the middle of the vent. This is adjusted via a diamond-cut rotary control knob, which is also seen in Volvo's 40 and 90 series cars.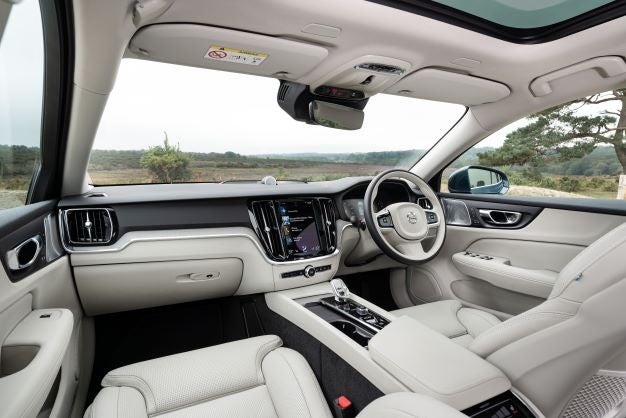 We've often found Volvo's steering wheel controls to be particularly intuitive. The V60 is no exception. The left spoke is used to control systems related to the driving function such as speed limiter, adaptive cruise control, etc. The right-hand spoke accesses all the neat infotainment features, including audio, phone and navigation. The tunnel console mounted spin engine start was a joy to use.
Heated and power front seats in black Nappa leather, panoramic roof and plush interior trim add to the car's dark and brooding ambience. Premium features include a rear view camera, front and rear parking sensors, heated steering wheel and a 14-speaker Bowers and Wilkins surround sound system.
In the rear, the V60 comes with two-tier integrated child booster cushions that extend from the base of the seat. The heated rear seats can be folded forward, providing 1,441 liters of cargo space. The tapered panoramic roofline that extends to the power tailgate, however, reduces headroom for tall rear passengers.
Although the sloping roofline sets this station wagon apart from others, it further compromises trunk space with smashed sides and roof. The wide front grille – with a prominent chrome logo and subtle creases – and the automaker's signature vertical rear lighting cluster mark this car as unmistakably Volvo, day or night.
As for storage, the V60 has plenty of fuzzy felt-lined compartments with dual cup holders in the front and back. We also love the attention to detail. For example, the storage bins have soft-closing lids and the sides of the center console are carpeted so you don't scratch your knuckles when you buckle your seatbelt.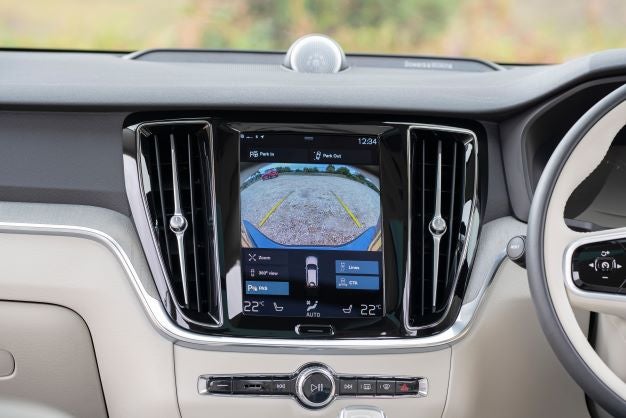 Connectivity
Incorporated across Volvo's range is its so-called Sensus Connect. This cloud-based service allows the driver to find and pay for parking from the car, find a restaurant, stream favorite music and more. The driver can also have his text messages read aloud without taking his hands off the wheel. Also falling under the auspices of Sensus Connect, Volvo On Call allows drivers to communicate directly with their car via a smartphone app to lock, unlock, check fuel levels, locate and check car mileage. It also allows the motorist to download trip information for the last 100 days, useful for business users declaring fuel costs. The Sensus Connect infotainment system is compatible with Apple CarPlay, Android Auto and the 4G standard.
As part of Volvo's Sensus technology, drive-in delivery is a new service that allows online orders to be delivered directly to the trunk of any Volvo. Using the automaker's On Call service, drive-thru delivery allows one-stop access to drop off items such as groceries or dry cleaning in the trunk of a parked car. It basically turns a car into a preferred delivery address. You can also send a destination directly to the car's sat nav so it's ready to go when you get in the car.
As of April 2022, all new Volvo car models are now available with over-the-air (OTA) software update capability. OTA capability is now available on V60 models as well as XC90 and S60 and follows the initial introduction of the technology on Volvo Cars' fully electric cars. This means that the company's entire portfolio can now receive an update to the entire car's operating system over the air. Volvo owners have had their infotainment system upgraded to a newer version of Android Automotive OS, Android 11 with the OTA update. They also received access to new app categories on Google Play, including navigation, charging and parking. The latest OTA update brings feature enhancements, ranging from better power management to improved weather timers and feature updates to mobile apps and in-vehicle apps.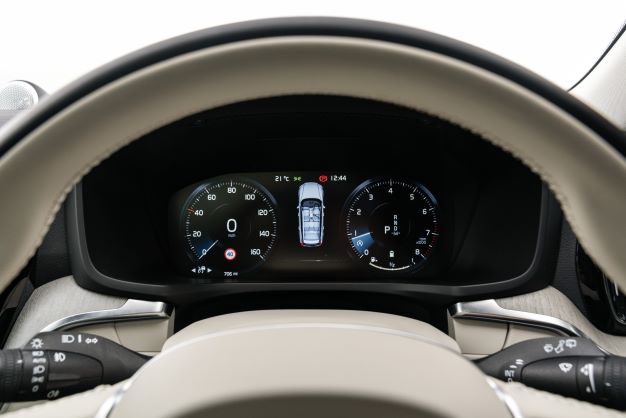 Advanced driver assistance systems
As you'd expect from a safety-loving Volvo, the V60 is packed with high-tech semi-autonomous and connected car features, most of which are displayed and controlled on an intuitive and responsive touchscreen.
The V60 includes advanced rider support systems used on the 90 and XC60 series. ADAS technologies include City Safety with Autobrake technology which uses automatic braking and sensing systems to help the driver avoid potential collisions. This system is remarkable because it is currently the only one of its kind to recognize pedestrians, cyclists and large animals. The S60 sedan and V60 station wagon both received a five-star rating in EuroNCAP 2018 safety tests, with very good scores in all categories. But then again, you wouldn't expect anything less from Volvo.
The Pilot Assist system – which assists the driver in steering, acceleration and braking on well-marked roads up to 130 km/h – has been improved with improved cornering performance. The V60 also includes road runoff mitigation and oncoming lane mitigation. The latter automatically provides steering assistance if you unintentionally drift out of your lane, steering you back into your lane and out of the path of any oncoming traffic.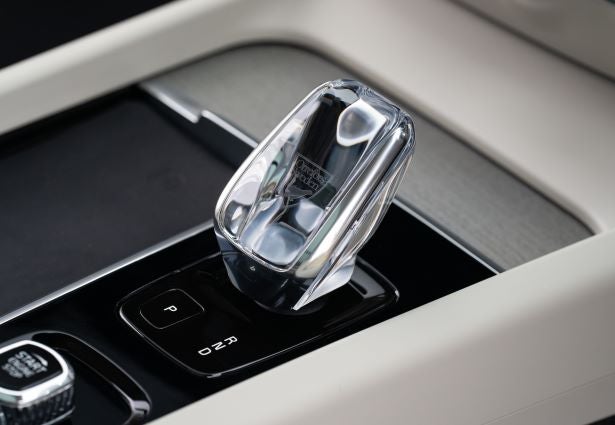 On the road
Seated for long, winding drives around the estate, I felt quite comfortable surrounded by a hulking cockpit. Its simple, clean and elegant interior, covered in soft-touch upholstery and plush leather seats, makes it a comfortable place to sit for a few hours. Overall, the latest generation V60 remains a solid, safe and sensible family choice, bristling with attractive specs. Although it does not drive itself yet, the Pilot Assist goes in the direction of this goal.
Bestseller
Volvo Cars of Geely sold 44,664 cars in July 2022, down 21.5% from the same month last year. Specifically, the XC60 remained the best-selling model period, followed by the XC40 at 156,920 (2020: 121,905) and the XC90 with 80,402 (2020: 61,327). July sales continued to be impacted by supply constraints carried over from previous months due to Covid-related lockdowns in China. This particularly affected retail deliveries of Recharge cars during the month and is expected to continue to affect the company's retail sales in the current quarter. Plug-in cars accounted for 21.5% of sales in July. The share of fully electric vehicles was 3.5%. For the year 2022, the objective remains to have a double-digit share of fully electric cars.