The mobile phone market in India saw a 22% increase in revenue to Rs 1.35 lakh crore in 2016 from Rs 1.11 lakh crore in 2015, according to CMR's annual Indian Cell Phone Market Review.
Samsung continues to lead the Indian market with a 33% market share during the year with revenue of Rs 45,371.3 crore, followed by Apple (8%) and Lenovo (7%) with revenues of Rs 11,297.5 crore and Rs 9,980.6 crore, respectively.
Source: CMR Research
The report further states that the industry's 4G revenue increased by over 100% to reach Rs 9,927.4 crore in 2016, while 3G decreased by around 60% to reach Rs 16,597.8 crore. of Rs.
CMR believes that in 2017 there would be major backlash and the industry will experience consolidation.
"2017 is going to be a disruptive year as vendors will come out with their unique propositions such as more RAM, higher battery capacities, among others. Nokia's re-entry into smartphones and the existence of smaller players will be some of the important factors driving the Indian mobile phone market. In a nutshell, 2017 is going to be a 'Do or Die' year for many brands, "the report said.
Source: CMR India
The CMR report also predicted that in 2017, 4G compatible cellphones will cannibalize the smartphone market below Rs 5,000. The buzz would be to make multifunction phones smarter with improved cameras and the introduction of new features, he said.
"Although revenue from multifunction phones is only a very small part of around 14%, in terms of volume, they hold around 57% of the market. Overall, there is wiggle room around multifunction phones and brands like itel, Zen and Ziox would get aggressive in this space, "the report said.
The war between Indian mobile phone brands (Micromax, Intex, Lava, Karbonn) and Chinese (Lenovo, Oppo, Vivo and Xiaomi) will be aggressive. In the year 2016, in terms of volume, the total market share of Indian brands was 35%, while for Chinese brands it was 10%. However, in terms of value, Chinese brands managed to beat Indian brands, with the combined revenue of the former standing at 22% versus 17% for the latter. Indian brands must prepare for a terrible war against Chinese players, he said.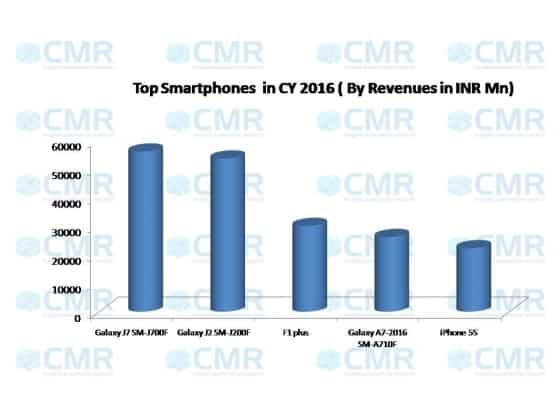 Source: CMR India
Indian players are reportedly eagerly awaiting the Rs 6,000 to Rs 10,000 smartphone market, where they will fight primarily with Xiaomi and Lenovo, also having a large portfolio in this segment. The 5,000-10,000 rupee market will see new specifications and upgrades, he added. In the premium segment, new models from Samsung, Apple and OnePlus would be worth a look.
He added that "Make in India" has given the right impetus to the manufacture of mobiles in the country. Today, around 66% of total shipments are domestically produced, in 2017 the share would reach 90%.
In terms of technology, 4G will be synonymous with smartphones. Multifunction phones are said to be there to support the voice-centric market. In 2016, 4G accounted for around 69% of total smartphone shipments, while 3G accounted for 29%. In 2017, 4G should cover almost 100% of smartphones.